Elevate Your Cells with Clean Eating
We all have those tired moments when we could use a little extra oomph. It's 3:00 p.m., an important project is due, and the motivation to rally through is lacking. Many people turn to coffee, energy drinks, candy bars, and other quick fixes to push them through the afternoon lull. But these "solutions" can have serious side effects: caffeine too late in the day means restlessness at night, added sugars cause a sharp rise and fall in blood sugar levels; many energy drinks have a laundry list of artificial ingredients. You may feel a boost of energy initially but will ultimately be worse off than if you hadn't eaten that Snickers at all (no offense, Snickers lovers; I'm right there with you).
So, what's the best way to get your fix? The most effective way to address a lack of energy is to prevent the problem in the first place. Shoot for the long term, creating consistent energy through proper nutrition. Conscious (or goal-oriented) grocery shopping/eating and utilizing supplements to make up for deficiencies will super-charge your cells. There are also several options for a quick boost that are healthier and more natural than the ones listed above. Read on to learn more about using clean nutrition for energy.
Food for Thought
With food, timing is everything. It's important to have a steady eating schedule. Eating snacks high in protein and complex carbs between meals can keep the energy steadily flowing. Foods like cottage cheese, tuna, hard-boiled eggs, or a protein bar can provide a controlled amount of energy. Such foods will satisfy your hunger for longer periods of time than quick-digesting sugars or other simple carbs. Protein bars, or even powdered protein, are also good substitutes when you're unable to eat on your normal schedule. They are both portable and don't need to be refrigerated. Make sure to stay hydrated, too, as any amount of dehydration can leave you feeling light-headed or fatigued (and continually debating that trip to the vending machine).
Out Shopping
When shopping for groceries, sometimes all it takes is reading the label to know whether a food item will contribute or detract from your long-term nutritional goals. I know when I shop mindlessly (aka, if it looks good I buy it), it inevitably leads to some poor purchasing decisions and, worse, I often completely omit an important food group or nutrient. Planning ahead not only saves time but could also save you money, by committing you to just the items on your list. Luckily, there are many ways to keep track of your shopping list; I use Google Keep, but there are plenty of great apps available.
Supplements: An Essential Foundation
Of course, it isn't always easy to get all of your nutrition from food alone. For example, if you wanted to get the American Heart Association's recommended amount of omega-3 fatty acids, you'd have to eat two servings of fish per week. This might not seem like a big deal to a seafood fanatic but, if fishy flavors aren't your thing, it's just not realistic to fit in those fatty acids. That's where supplements come in. For omega-3s, you could try BiOmega™, an ultra-pure fish oil supplement that offers both omega-3 fatty acids and a dose of vitamin D.*
Another benefit to supplements is they can go above and beyond when it comes to full-body health, especially at the cellular level. CoQuinone® 30, one of USANA's high-quality nutritional products, contains coenzyme Q10, which is key to the production of natural energy (ATP) in cells. It's a cleaner, more sustainable option for energy on a cellular level. It has also been shown to support a strong and healthy cardiovascular system and contributes to overall antioxidant protection.* Nothing can completely substitute a balanced diet, but you can certainly enhance your nutrition—and energy levels—with the right supplements.
If you're like me and don't have time to manage all of your supplements, it's worth checking out the HealthPak™ from USANA. It's a 28-day supply of core nutritionals, separated into individual AM/PM packs. It definitely beats trying to keep track of four, five, or more individual supplements multiple times a day. If you want a more custom solution, check out the MyHealthPak™. It's similar to the regular HealthPak, except you get to build your own daily supply of nutritionals by selecting which supplements to include—and how many. My favorite part is you can choose which supplements go in the AM and PM packs, making once-a-day supplements easier to incorporate.
Quick Fixes
We all know, even with the best preparations, life has a way of throwing a wrench in things. Maybe you wake up late and don't have time to make your high-fat, high-protein avocado toast. Perhaps work or life stresses are draining you, preventing you from eating when you'd like. Whatever the issue, sometimes we just need a quick pick-me-up. Whole fruit is a great, clean energy source that's perfect for these situations. They have carbs, fiber, and the good kind of sugar that will give you a more sustained energy boost—unlike that Snickers bar we had earlier. So wolf down an apple or orange (or, my favorite, grapefruit) and get to it! Even if you need to go on a fast food run, a lot of restaurants offer fruit or vegetables as a side in place of those deliciously devilish fries.
If you do cave and go for that Snickers bar, it's not the end of the world. Moderation is both fine and healthy (even those maybe-not-quite-so-evil simple carbohydrates I keep hounding on). Just make sure these little fixes don't become long-term habits. In reality, the more you focus on getting the proper nutrients at the proper times, the less likely you'll feel the need to turn to that late-afternoon chocolate bar.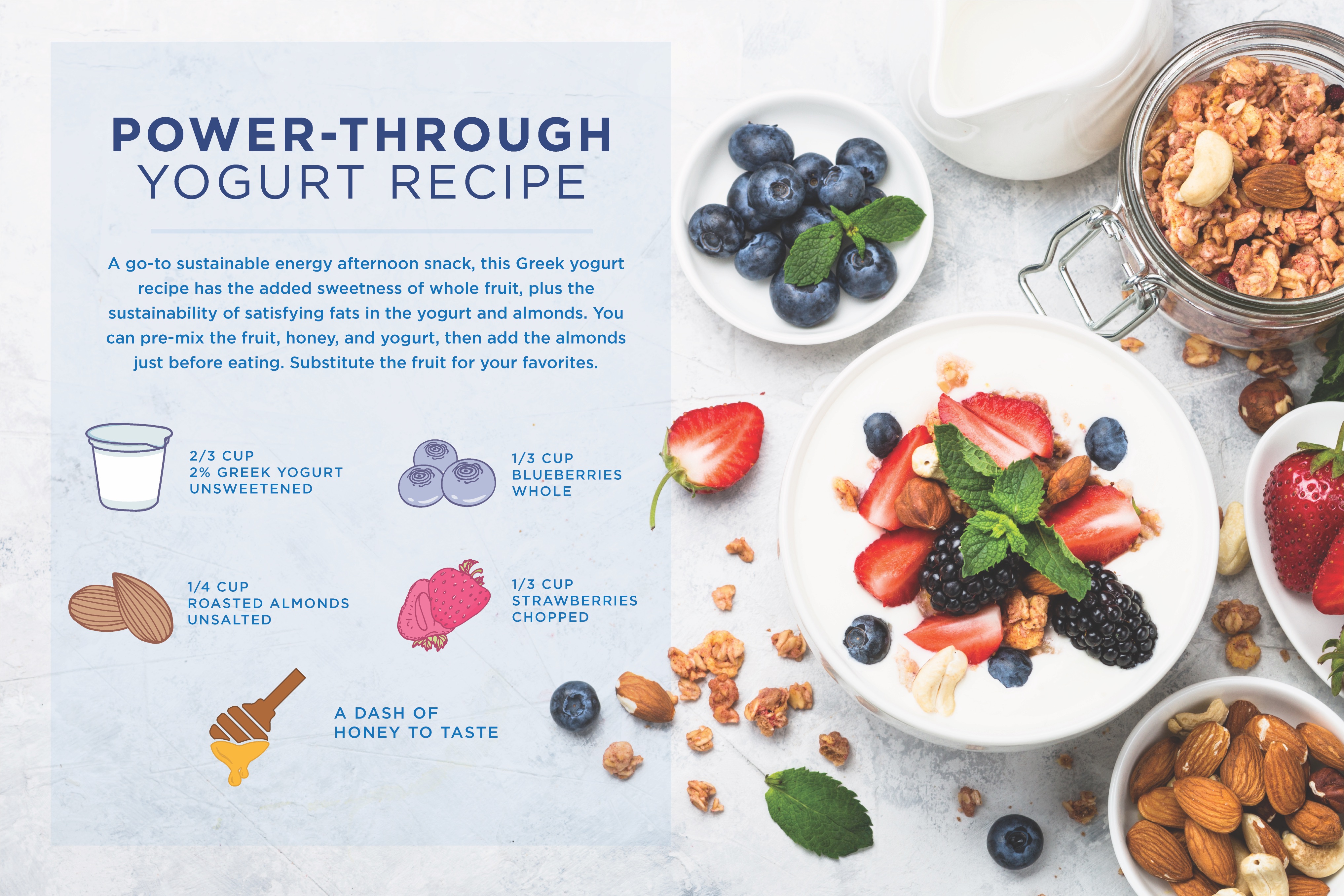 Here at East Coast Life Solutions, we know that food and energy are synonymous with good health. Please feel free to shop for any of the above-mentioned supplements on our site, which will be delivered to your door.
Energized for Life