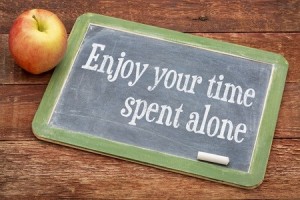 Just leave me alone! How often do you hear that demand? If you have teenagers in the house, you might hear it fairly often. But if you are honest with yourself, you would probably have to admit to the desire to say it yourself now and then – sometimes perhaps quite emphatically.
Before you write it off as a temper tantrum, consider that time alone is important for one's mental health. And this is true for both children and adults. Here are a few ways to steal a few moments of alone time and to teach your children how to embrace it themselves:
1. Designate a quiet time. Even if it is only 15 minutes, set a specific time each day for family members to spend on their own.
2. Find quiet places. If there are several family members living in the house, then finding a place to be alone might be just as challenging as finding the time to be alone. Use dead space to create reading or studying nooks.
3. Set some rules. While you want your children to understand that you understand they need time alone, you also want them to know that a slammed door is not an appropriate signal that they will be in their room to cool off. A simple "I'm going to my room" will work much better. Also, if you are the one heading to your room, let children know that your closed door means "keep out."
4. Embrace daily exercise. Combine alone time with exercise time. Do yoga (also great for kids) or take a walk. You can exercise as a family with the understanding that conversation is optional. Even though you won't physically be alone, everyone can use the time for mental relaxation, too.